Spend less time preparing dinner ingredients and more time with your loved ones when using our Multi-Purpose Steel Food Slicer.
No matter what you're chopping, this multi-purpose steel food slicer can cut through anything like butter. Industrial grade steel blades offer effortless slicing you can use for vegetables, fruits, and meats.
Say goodbye to sharpening knives and over-exerting yourself when trying to chop the toughest meats out there. If you're slicing ingredients for a family meal or a single portion, you can freely adjust the size of the slicer depending on what you're cutting.
Place a plate next to the slicer to catch everything that's sliced so your meat and veggies stay clean and sanitary. There's a bottom base attached to the slicer which prevents the blade from hitting your countertops. Now you can safely cut the ingredients of your meal without accidentally harming yourself in the process.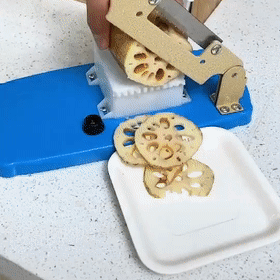 It's never been more convenient to have your meals fully prepared and ready to cook thanks to this handy food slicer!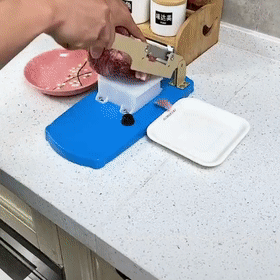 Features:
Can be used to slice vegetables, fruits, and meats with little effort
High-quality stainless steel blades that cut through meat with ease so you exert less energy slicing
A durable bottom base that prevents the blade from slicing your countertops
Adjustable blade you can fix to the size you need
Prepare your meal's ingredients with our Multi-Purpose Steel Food Slicer and order yours today!
If for whatever reason your goods don't arrive within 60 days, you will be refunded in FULL for that item. This is our promise to you! If there's a missing order, please let us know by send us an email. We'll investigate (it usually took 3-5 business days) and send you another one after we got a conclusion.
We want you to be satisfied with the products you buy from us. We have 24/7/365 ticket and email support. Please contact us if you need any assistance.